In The Small BOX Gallery
Annotations
by Katie Butler
and
Rosie
by Summit Artspace studio artist
Melissa Markwald
in The Big BOX Gallery
October 20 – November 18, 2017
Free and open to the public
The BOX Gallery, operated by the Artists of Rubber City on the third floor of Summit Artspace on East Market, is featuring two solo exhibitions from Oct. 20 through Nov. 18, 2017: Annotations by Katie Butler and Rosie by Melissa Markwald.
Katie Butler is also a recent graduate of the Myers School of Art at The University of Akron, obtaining a BFA in Painting and Drawing. Currently Katie's paintings stem from the compulsive need to index her own actions and experiences. She employs drawing as a method of note-taking; making quick blind contours to mark moments in time. She creates paintings based off these drawings, while continually making more blind contours of the work as it progresses. In doing this, she intentionally distances herself from the subject and is obsessively trying to bring it back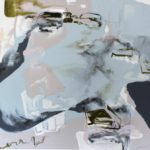 into fruition. The goal is to continue this contradictive cycle until the subject transforms into something entirely new. It is a systematic way of giving up control, allowing for spontaneity while maintaining a sense of order, allowing for change while maintaining a sense of stability. The process is individual and private, but the desire for order and control in a world of flux is universal.
Melissa Markwald is a graduate from the University of Akron, Myers School of Art, with a B.F.A emphasis in Painting and Drawing which she received in 2016. After receiving the Academy Merit
Scholarship, she participated in the month-long Summer Undergraduate Residency Program at the New York Academy of Art this summer. She has also been the recipient of a Dashiell Tools and Materials Grant and Folk Charitable Foundation Venice Biennale International Travel and Study of Art Scholarship, both through the University of Akron.
In her newest body of work, Rosie, Markwald takes ordinary people and lets their voices shape the meaning of famous icon Rosie the Riveter. Rosie the Riveter is a symbol of strength, power, courage and feminism. Rosie was more than an icon. She symbolized the actual everyday working women of an entire generation. Her paintings deal with different expectations of power. They raise questions about who we are now: How is our culture changing? What will trigger we need for our generation to gather its strength? And when the need to be strong arises, whose turn will it be? In her own words, Melissa states, "For me the purpose of painting is to bear witness."
The BOX Gallery will also be open on Saturday, Nov. 4 for Artwalk and Nov. 16 for 3rd Thursday, both from 5-9 pm, in addition to its regular hours. Admission is FREE and open to the public.
About Artists of Rubber City
In 1978, Artists of Rubber City (AoRC) was founded by a group of University of Akron art students and community members looking for places to display their work and for a way to stay connected. AoRC is a member-based visual arts nonprofit with the mission to advocate for contemporary artists and Ohio art. The group promotes the appreciation and ownership of art created by contemporary artists as one facet of the rich culture to be found in Northeast Ohio. Members have diverse backgrounds in visual art including painters, photographers, printmakers, fiber artists, ceramicists, media artists, graphic artists, sculptors, and jewelers.
About the BOX Gallery
The BOX Gallery is an artist-run gallery owned by the Artists of Rubber City. It opened in October 2009 on the third floor of Summit Artspace, 140 E. Market St. in Akron. Gallery exhibition proposals are open to the public and can be acquired at the gallery or at ArtistsofRubberCity.org. Accepted artist and curator proposals have the opportunity to be featured in two exhibition spaces: the Big BOX and the small box. As a part of the AoRC mission to promote regional contemporary art and artists, membership is not a requirement for gallery shows or exhibitions.
The BOX Gallery is FREE and open to the public during exhibitions on Friday and Saturday from 12-5 pm, during Friday art openings, during 3rd Thursday, every third Thursday of the month from 5 – 9 pm, and during Artwalk, the first Saturday of each month from 5-9 pm.
Parking behind the building
Handicap accessible
Summit Artspace on East Market Location
140 East Market Street
Akron, Ohio 44308
Phone: 330-376-8480
Map
Mapquest Driving Directions – click here
SUMMIT ARTSPACE IS SUPPORTED BY: