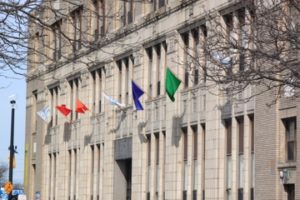 Summit Artspace is a community art center bringing together in one location some of the best local artists, art education and arts organizations of the Greater Akron area. Summit Artspace, previously known as Akron Area Arts Alliance, is a non-profit organization promoting arts and cultural activities. Summit Artspace is committed to building public awareness of the value of arts and culture to the quality of life and the local economy. The Summit Artspace building, formerly the first site of the Akron Beacon Journal, houses the Summit Artspace Gallery, artist studios, the Akron Area Arts Alliance office, The Box Gallery and is the site of several art organizations as well as performance space workshop areas and meeting rooms. The facility is owned by the County of Summit, which has been a significant and valued supporter of Summit Artspace as community space.
SUMMIT ARTSPACE GALLERY
The Summit Artspace Gallery is located on the first floor of the building and features exclusive exhibitions throughout the year. The exhibitions change frequently and are open to the public on Thursdays from 12-7pm, Fridays from 12-7pm, and Saturdays from 12-5pm. Visitors are invited to enjoy unique work and interact with the artists during various opening receptions and panel discussions. To learn more about current exhibitions and events scheduled, please view the Event Calendar.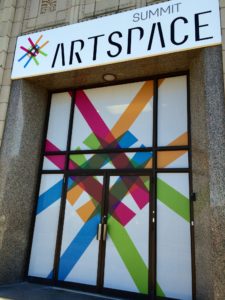 OUR MISSION
Building Community Through the Arts
Summit Artspace is dedicated to providing a nurturing environment for artists at all levels of their creative journey, encouraging participation in the arts through education and outreach, and serving as a vital creative resource for the community.
OUR VISION
Since its founding in 1991, the Akron Area Arts Alliance (AAAA) has been aware of the need for a community arts center. The dream among the arts community has been to develop a center that would offer affordable studio, workshop, classroom and rehearsal space for artists; economical office space and shared facilities for arts organizations; and a public gallery devoted to local art. Due to the generosity of many in the community the dream is becoming a reality. The center also serves as an incubator to nurture/mentor local talents, as a headquarters for collaborative art projects throughout Summit County and as an exciting and welcoming gathering place for artists and the public. Similar facilities established in communities across the country have proven to be valuable economic development tool in helping to revitalize downtown areas, initiate development in marginal neighborhoods, create jobs and attract tourism.
OUR STRATEGIC PLAN
The Summit Artspace Board of Directors approved this 3-year strategic plan in February 2016.
HISTORY OF SUMMIT ARTSPACE
In 2001, Summit County Executive James McCarthy suggested a vacant, county-owned building at 140 East Market Street as a possible site. This historic, art deco building, which was built in 1927 as the first home of the Beacon Journal newspaper, is conveniently located near the Akron Art Museum. It encompasses 55,000 square feet over three floors plus a basement. With support from the Akron Community Foundation, AAAA developed a business plan for the project. In July 2002, Summit County Council approved a lease agreement for space on the building's first floor. With this generous support from Summit County government plus contributions from the Akron Community Foundation, GAR Foundation, City of Akron and OMNOVA Solutions, the Summit Artspace Gallery opened its Inaugural Exhibition September 21, 2002. Since that time, the gallery has presented more than 70 exhibitions featuring works created by hundreds of local artists and public school students. Exhibitions have featured a variety of styles (contemporary to traditional) and media (painting, ceramics, glass, metal, fabric to film). Over 15,000 people have visited the gallery and enjoyed its free exhibitions, artist talks, workshops, demonstrations and meet-the-artists receptions.
In 2010, with support from the Northern Ohio Golf Charities Foundation,  affordable artists' studios on the building's third floor were completed and are now open for the public to visit during open hours. Resident artists and art organizations hold workshops and classes as well as participate in monthly Akron Artwalks.
In 2015, the Akron Area Art Alliance undertook a self-study to assess its goals for the future. Its members determined that the future lay with focusing its resources and energy on developing Summit Artspace as a premier community art center. With that long-term direction, Summit Artspace took over the operation of the Art Center on Tuscarawas (ACoT) and Nine Muses Art Gallery, both in Barberton in 2016.
SUMMIT ARTSPACE IS SUPPORTED BY: