SUMMIT ARTSPACE ON TUSC
(The Art Center on Tuscarawas)
ART CENTER ON TUSCARAWAS
EVENT FOR MARCH 24
BARBERTON 4th FRIDAY
5-8 PM

Summit Artspace on Tusc
The Art Center on Tusc
STUDIO ARTISTS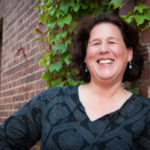 Miriam Daniel, Brave Art
I am an intuitive artist. This means I look with my eyes and my heart, and in tandem, they lead my hands to create. My work has often been described as "just so happy." I find great joy and peace in creating. I am most inspired by nature and life around me. I am often found working in acrylics on canvas, but I also enjoy many other media–watercolor, papermaking and book arts to name a few. You might also find me at ACoT teaching yoga, writing for BraveTeachers.com, or leading creative workshops. Having a public studio and joining a community of artists is a new adventure for me that has required lots of courage, therefore I call this Brave Art. I spent the past 18 years as a teacher and literacy advocate in schools in Ohio, Alask, and Washington. I'm looking forward to where this path leads.  You can follow my art and life adventures or purchase art by connecting with my blog: Brave Art by Miriam Daniel at www.MimDaniel.blogspot.com.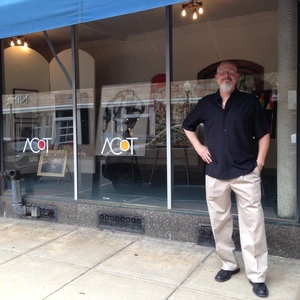 Terry Klausman
I raced stockcars for 7 years. I was the 2007 Pure Stock division Champion at Barberton Speedway. I won the 2007 Season Championship Feature[B-Main]at Midvale Speedway. (It was my first and only time at that track. I hit the wall coming out of turn 4 in practice, came back from that and still won a feature,which the locals were none to happy about.) I have bowled 4 -300's with a high series of 802 and a high average of 220 in the Budweiser League of Masters. I'm a romantic. I love to take chances and try new and different things. I'm a very eclectic person. I am an artist. I create very distinctive colored pencil drawings and welded steel sculpture. Harris Stanton Gallery in Akron represent me in these media. Found object assemblage is another type of sculpture I love to make and those are represented by the River Gallery in Rocky River and Hazel Tree Interiors in Akron. I have a sculpture and also a drawing studio in The Art Center on Tusc (ACoT) in Barberton.
Facebook: Terry.Klausman.7.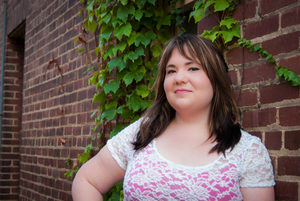 Tressa Watts 
– Photographer – My goal is to show you what you might not see. As a local artist my subjects are what you might pass on a daily basis but I try to capture it a new light. Fun facts: I'm a born & raised Barbertonian. I love otters and cats. I met my husband playing d&d (and he continues to love me despite me constantly putting my cold hands & feet on him).
Facebook: Facebook.com/wattsupart
Etsy Shop: Etsy.com/shop/wattsupart
Business Name: Watts Up Photography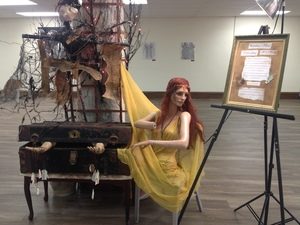 Nikki Bartel
As*pire ~ fly high: to soar to a great height. Where dreams collide and ring into reality. A storyteller through all mediums, to inspire others and myself to continue to stir the pot. Reach for your dreams and know that it is all about the process and the journey, not the destination. A  collaboration of Mixed Media, art, jewelry, and dreams.
Current and past events:  The Gardner of Bath Art and Music Fest,  Summit Pop Up Artists,  Akron Farmer and Flea Market,  Rain Barrel Project – Auction.

Facebook: www.facebook.com/aspiredreamandjingle  and Nikki Bartel
Website: aspiredreamandjingle.weebly.com
Blog: artichokewoman.blogspot.com
Ron White
As a visual artist working on paper, in clay, through ice, I have considered my use of the human figure to be post modernist documents of moments in time. I feel as though the figures mark an event or personal space. The human form is the connection to any experience. The figure is paramount in the work that I create. Expounding upon life experiences, dreams and illustrations, I sculpt and render the figure with interest towards but not limited to the classic form. Techniques used in the art making process are usually both two and three dimensional. It is a derivative of exploration in light and line creating tone and plane. I work in many medium creating work for my self expression and by commission in jewelry, clay, drawing, painting and in ice. I have only begun a life long obsession with art media. The purposeful control of the figure in the medium is respected in the histories of the oldest cultures. A complex blend of pose, gesture, foreshortening created using surface treatments of cross hatch, ink wash, and scgraffito presents an artist with an abundance of opportunity for self expression. Since the first time man put his mark in the mud, the earth and its populous has changed, but his need to communicate through his line is still pertinent and necessary.
Website: ronwhiteart.com

Jason Holm – illustrator, graphic designer, digital developer
Facebook: Jason Holm
Matt McCann – painter
Facebook: Matt McCann9.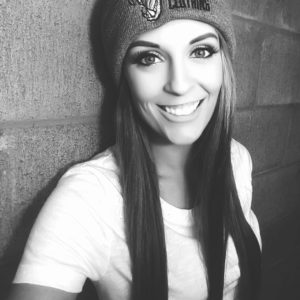 Kelsey Smith
My name is Kelsey and I am a Halloween obsessed Special Effects Artist. Everything I make is OOAK, and I enjoy every minute I spend on my pieces. I started my corpsing a couple years ago for some personal Halloween decorations and they became so popular that I decided I wanted to share with everyone… Defunct FX was born a couple months later! Please enjoy my shop and if you have ANY questions never hesitate to ask! We are in studio #101 at ACoT in downtown Barberton. We take appointments for sales (234-312-7959) and every Fourth Friday from 4-9pm it's open to the public. 
Facebook: https://www.facebook.com/kactresssmith
https://www.facebook.com/defunctfx/?pnref=about.work
Email: kelsey@defunctfx.com
Website: http://www.defunctfx.com/